The Moon Girl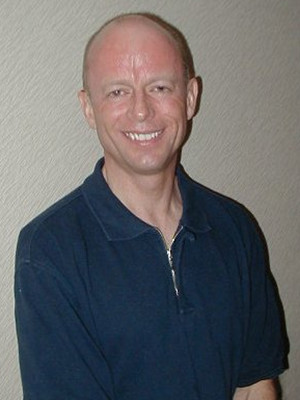 M. Shayne Bell is an award-winning science fiction writer and poet. In 1987, he was a first place winner of the Writers of the Future contest, and was later awarded a Creative Writing Fellowship from the National Endowment for the Arts. He is the author of the novel, Nicoji, as well as numerous poems and short stories, and has been nominated for both Hugo and Nebula awards for his work. He lives in Rexburg, Idaho, where he continues to write poetry and blog about music at www.year4music.com
About this story, Shayne says:
I wrote The Moon Girl – indeed all of my stories – and in some ways I have lived my life attempting to achieve something comparable to the magic and wonder I discovered as a boy in Edgar Rice Burroughs' Tarzan. I have record of reading the first two Tarzan books twenty-four times. Three years ago, and after more than thirty years, I reread Tarzan – and it held up. To my mind, it is a great story. What do I find there? Plato and the Socratic method. Lessons on the vital importance of language, learning, and books. Lessons on loneliness, and how to endure it; on friendship, and how friends change us; lessons on the pursuit of knowledge for knowledge's sake. I first learned there about the Moors, and I first read there about the Code of the Bedouin, and how, if they encounter a stranger in the desert, they first ask not the person's name or business – instead, they ask if the wanderer is thirsty, for the desert is a killer, and then they ask if the traveler is hungry. Only after supplying water and food are names exchanged and reasons for being in the desert discussed. A guest of the Bedouin is treated to the best of everything they have to offer, and guests are protected and watched over. I have tried to live by that code, and often give up my own bed and sleep on the floor so that my guests might be more comfortable. Through the Tarzan books, I found many of the enduring interests that have informed my life – philosophy to history, language to geography, maps, books, the outdoors and the physical challenges presented there. And, of course, Africa itself.

In 1996, I went to Africa expecting to die there. All signs indicated that I would die from AIDS in the fall of that year. I told my doctor that it had been my life's dream to see Africa, and that I wanted to go to Kenya and Tanzania. Because of my compromised immune system, I could not take any of the twenty-six required vaccinations. My doctor thought this over and said: "You could stay here and die in a hospital bed, or you could go to Africa and die in a tent on the Serengeti. I will help you go." He wrote a letter for me to present at customs and the borders, explaining why I did not have the required international vaccination card, that I understood the risks of traveling without having been vaccinated against everything from malaria to yellow fever, and that it was my dream to see Africa before I died. In Nairobi, I handed that letter to the customs agent in the terminal. He read it, looked at me a long moment, then held out his hand. "Welcome to Kenya," he said. The guard at the border of Tanzania did the same thing: "Welcome to Tanzania," he said after reading the letter.

I saw wonders in both countries. I attended a conference in Nairobi at which Jane Goodall spoke, and Mary Leakey, and Mary led us on a tour of the National Museum of Kenya, and lectured there. I saw Olduvai Gorge, where it seems every rock is a fossil; and I saw the great national parks, the joyous animals, the jungles and plains, and I joined an eight-day expedition to the summit of Kilimanjaro. I spent a month in Africa, and I began to feel better there. Systems that had permanently shut down in me reactivated, somehow, and they continue to function at normal levels to this day. I returned home in better health than I had been in years, and far from dying that year, I am writing this to you twenty-one years later. I have wondered if Africa somehow recognized in me one of her sons who loves her, and that I had come to her on a final pilgrimage. Instead of letting me die, Africa healed me in many ways, and sent me home.

Today, I give you my story The Moon Girl. I hope you find in it some of the beauty, wonder, and adventure with which Africa has so informed my life.
I was privileged to have my very first short story published in an anthology edited by M. Shayne Bell; so it seemed only fitting to invite him to contribute to my first anthology. Imagine my delight when he graciously gave me his Nebula-award nominated story, The Moon Girl, which is one of my favorites from his Africa collection. I hope you enjoy it as much as I always have.
Read The Moon Girl and more in Mirages and Speculations: Science Fiction and Fantasy from the Desert, available in both paper and ebook formats through Amazon, and in electronic format through Kobo, Barnes & Noble, and the iBooks store.