Alpha Romeo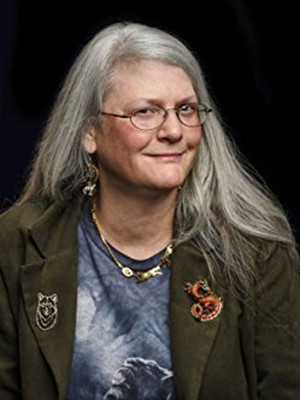 Julie Frost writes every shade of speculative fiction and lives in Utah with her family – six guinea pigs, three humans, a tripod calico cat, and a "kitten" who thinks she's a warrior princess – and a collection of anteaters and Oaxacan carvings, some of which intersect. A 2016 Writers of the Future prize winner, Julie's short fiction has appeared in The District of Wonders, Cosmos, Unlikely Story, Plasma Frequency, Stupefying Stories, and many other venues. Her first novel, Pack Dynamics, was released in 2015 by WordFire Press. She whines about writing, a lot, at www.agilebrit.livejournal.com
About Alpha Romeo, Julie says:
"This story was inspired by a call for submissions to the anthology Glitter and Mayhem, edited by Ellen Datlow, wherein they wanted "glam" stories with SFF settings. I'm fairly certain it was rejected because I only included one scene in the glam bar where, Ben (from Pack Dynamics) finds himself, but the idea of the werewolf PI putting on makeup and dying his hair purple was irresistible – not to mention the fact that I got to use actual sparkly vampires. I mean… really. How could I not?"
Most of the 'desert' stories in this collection are set in variations of the wideopen spaces. So when I read Alpha Romeo – which is solidly set in Los Angeles – I was intrigued. After all, the city is in the desert, even if it is mostly paved over and air-conditioned. Besides, like Julie says, a 'glam' werewolf up against sparkly vampires on hot summer nights? There really wasn't a chance of me letting this one get away!
Read Alpha Romeo and more in Mirages and Speculations: Science Fiction and Fantasy from the Desert, available in both paper and ebook formats through Amazon, and in electronic format through Kobo, Barnes & Noble, and the iBooks store.