Soul Walls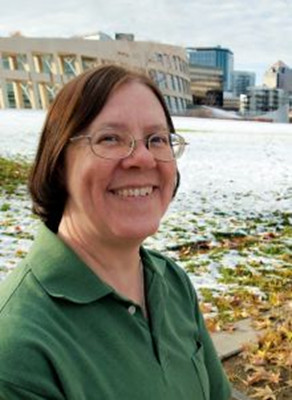 Julia H. West has a degree in anthropology; when asked what she'd do with it, she said, "Write science fiction and fantasy." She lives with her family and an undisclosed number of cats in West Jordan, Utah. She was grand prize winner in Writers of the Future in 1995, and her fiction has appeared in such magazines as Spider, Realms of Fantasy, and Oceans of the Mind, and anthologies including Sword and Sorceress. You can find her online at www.juliahwest.com, and most of her previously published short fiction is available at www.callihoo.com
About Soul Walls, Julia says:
"Ths story grew from research I was doing for my (as-yet-unpublished) novel Speaking With Stone, which features a group of Hopi colonists on another planet (hence unusual animals like 'gazelope' and 'gembugs'). Running is very important in Hopi culture, and people actually did run down steep paths every day to tend fields below their pueblo homes, and up again at night. Foot races between members of various villages were also popular. As I pondered Tiva's visionary journey, my husband reminded me of this fact, and Tiva's story bloomed like a desert flower."
Julia's Hopi-inspired secondary world fantasy shares a reverence for the old ways and the gifts of the land, while at the same time gently highlighting our common need to take the time to listen, and pay attention to the right things.
Read Soul Walls and more in Mirages and Speculations: Science Fiction and Fantasy from the Desert, available in both paper and ebook formats through Amazon, and in electronic format through Kobo, Barnes & Noble, and the iBooks store.