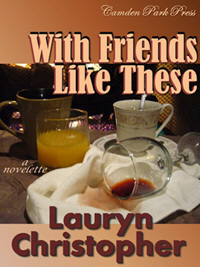 "…a powerful piece about friendship, loss, death, and secrets." —
Kristine Kathryn Rusch
How well do we really know our friends? Their secret lives? Their hidden pain? Liz, Deb, Mikki, Anna, and Meg believe they know everything about each other — but one of them carries too many secrets — secrets that tear at her heart and eat at her friendships. Secrets she will kill to protect.
A "Hit Lady for Hire" novelette.
Available on Kindle
, Nook, and Smashwords.  $2.99
I have to admit, Meg's character (first introduced here, in With Friends Like These) intrigued me — and the introduction in the novelette just wasn't enough; I wanted to get to know this character better. In writing Conflict of Interest, I discovered a woman with demons — the kind of demons that drive her to use the earnings from her less-than-legal activities to fund small businesses in underprivileged communities, or coach other women in the art of self-defense while honing her own fighting skills — so that none of them will ever be victims again. In a strange way, I've come to like Meg — even though I'd never want to be on the receiving end of one of her judgment calls.
— Lauryn