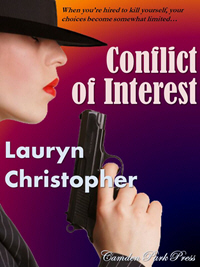 A few people have asked if I'm planning to make a print (paper) version of my crime novel, Conflict of Interest available.
The short answer: Yes.
The long answer: Yes, as soon as I've sold enough of the ebook copies to pay for the cover design, internal layout, and proof copies. I'm getting close to my goals, but, like all good things, it takes time. I'm trying to be patient – I want to see the book sitting on my bookshelf, too!
In the meantime, spread the word: the more people who buy the ebook, the sooner the print version will come out!
Conflict of Interest
– a crime novel by Lauryn Christopher Available on
Kindle
,
Nook
,
XinXii
and
Smashwords
. $4.99 When a professional assassin has a work-related issue, someone usually ends up dead…