Yes, I admit it – I'm not a fan of most television series. It's not that there aren't some good series' out there – it's that I don't like the whole "being held hostage to the television" thing.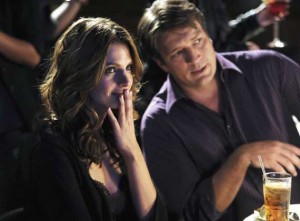 But I will pick up the season DVDs of a series that I'm following or that has been recommended to me and watch it mini-series style. Which is what we're doing with Castle, Season 3 (yes, I know, we're behind, but I don't care). I'm loving it! The writers and actors have really hit their stride, and the stories have a delightful number of twists and turns, and even when I can guess "whodunit" before Beckett & Castle, I don't mind because I'm enjoying the ride so much.
Yup. As both a writer and a viewer, I'm definitely a fan.