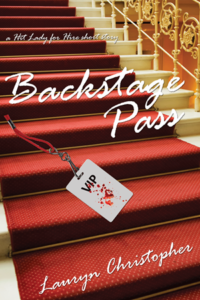 Your favorite Hit Lady for Hire is back, with a new (short) adventure!
A secret audit of an off-Broadway theater takes Meg to the Big Apple for what should have been an easy-money job.

While prepared to act the part of an investor to ferret out who's cooking the books, Meg hadn't expected to get caught up in the darker drama playing out backstage…
Backstage Pass is just one of the many stories in  Crimes, Capers, and Rule-Breakers – a collection of twenty short stories featuring thieves and miscreants on their criminal adventures! From burglars to assassins, grifters to con artists, these are mysteries from the other side, from the criminal point-of-view.
So be on the lookout! Crimes, Capers, and Rule-Breakers is available in your favorite ebook format on Amazon, Kobo, and Barnes & Noble, or through BundleRabbit.com. Hop on over today, before this great deal gets away!