My husband and I randomly happened to pick up "Wild Target" from Blockbuster yesterday – not sure why (the cover image caught my attention, the blurb hooked me…sound familiar?)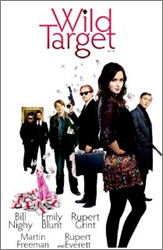 The movie is based on the 1993 French film Cible Emouvante (which I'd never heard of before, and, not being fluent in French, will probably never see). It's about an assassin (Bill Nighy) with a problem: He didn't kill his target (Emily Blunt) quickly enough, and now he's not so sure he wants to – although there are times when she pushes him almost to the edge in spite of himself. Toss in an accidental apprentice assassin (Rupert Grint), a bad guy with the worst taste in thugs, and an aging mother who has lovingly scrapbooked all of the assassin's kills, and the movie could have very easily gone over the top into ridiculousness at many points along the way.
But it didn't.
The DVD cover blurb bills the film as "…a dangerous comedy…" and while the action is not intense and the suspense low-key, the humor is in a dry, British style that is perfectly timed. The dialog is sharp and crisp, and even when you know what's going to happen next, you don't care, because you're so engaged with *how* they do it.
I don't recommend movies often, but this was well-written and great fun. If this were a review site, I'd give it five stars. Enjoy!
Wild Target
Bill Nighy, Emily Blunt, Rupert Grint Honest Engine Films, 2010