In most crime and mystery fiction, it's pretty easy to spot the hero/heroine.
She's the person in the wrong place at the wrong time, who often finds herself in some sort of peril, but, in spite of all odds, manages to rout the bad guy in the end.
He's the intrepid investigator/police detective/average Joe, who hunts down the villain with steely-eyed determination and a resolve to see justice prevail.
Villains aren't always quite so readily apparent, but are seldom the mustachioed characters we remember from Saturday morning cartoons.
They're more often chameleon-like, with textures and variations that make them sometimes difficult to spot amid the Rogue's Gallery of shady characters populating the pages of the story. But while each of these individuals may have had some combination of means, motive, and opportunity to have committed the crime-in-question, the villain is ultimately revealed – and usually captured – as the one who acted on their darker impulses as the story progresses.
Yes, I'm generalizing on the stereotypes, but since it's so easy to identify the stereotypical heroes and villains, it should be just as easy for us to recognize the anti-hero, right?
Not always.
When I wrote Conflict of Interest, I didn't at first realize that the main character, Meg, was an anti-hero. After all, she's an assassin – not a typical hero's profession; on the other hand (keeping spoilers to a minimum here), she actually chooses some heroic-type actions through the course of the story.
It was a fellow writer who read an early draft and pointed out that by telling the story from the assassin's point of view, I'd entered the gray area  and gritty streets inhabited by the anti-hero.
Of course, that suits me just fine. Meg is a complicated person, a woman with a dysfunctional past that has molded and shaped her into the person she is – someone who can kill quickly and efficiently when the need arises, who is not above selling secrets or using what she's learned to her own advantage or to suit her purposes. At the same time, there's a core of humanity in her that she frequently fails to recognize – a fierce loyalty to her few friends, a protective nature that asserts itself when she volunteers at a self-defense class or invests her ill-gotten gains in underdeveloped communities.
In her own stories, Meg never sees herself as the hero, but she doesn't consider herself to be the villain, either. In her matter-of-fact way, she'd tell you that she's just there, doing what needs to be done. A loner, a person who gets her hands dirty because there's a job that needs to be done, and she's not afraid of doing it.
Just don't ask her to think too much about it.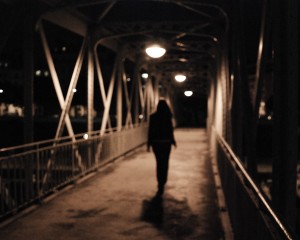 "In the real world there are no villains. No one actually sets out to do evil. Fiction mirrors life. Or, more accurately, fiction serves as a lens to focus what we know of life and bring its realities into sharper, clearer understanding for us. There are no villains cackling and rubbing their hands in glee as they contemplate their evil deeds. There are only people with problems, struggling to solve them." 
–Ben Bova