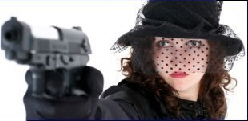 We're pleased to announce that Camden Park Press author Lauryn Christopher's suspense novel "Conflict of Interest" has been selected as one of the featured titles in the August 2011 issue of the All Mystery! enewsletter.
"Conflict of Interest," which is receiving four- and five-star reviews on all electronic venues, is the first in Lauryn Christopher's "Hit Lady for Hire" collection, which also includes the novelette, "With Friends Like These," and an upcoming novella, "Pro Bono" (currently in progress). As mystery author Patricia K. Batta wrote in a review on Amazon.com:
"Suspend your disbelief and get ready for a ride. With astonishing detail, Lauryn Christopher lays out an escalating series of events that shake assassin Megan Harris from her normally unshakable confidence…."
We here at Camden Park Press hope that you – like us – enjoy Lauryn Christopher's work, and – like us – are anxiously awaiting her next title.